California "LEMON LAW BUYBACK"
A California Consumers Guide to vehicles repurchased by the automobile manufacturer under the California lemon law, as well as "re-acquired" vehicles.
NOTE: If you purchased or leased a vehicle that turned out to be a "lemon", and you want a "buyback" under the California Lemon Law, please contact California's largest lemon law attorney firm via this link:
CLICK HERE TO ENTER THIS WEBSITE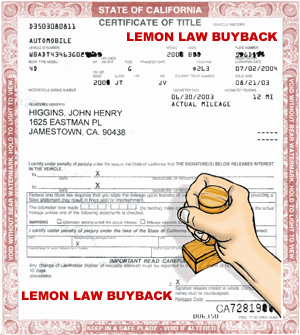 Lemon law buyback vehicles. They are everywhere, and are being found for sale in increasing numbers at automobile dealerships throughout California.
You will hear terms like "lemon law buyback", "previously re-acquired vehicle", or other "disclosures" on vehicles that have been returned to the manufacturer, and subsequently re-sold on dealer's lots for a variety of historic problems.
But the "LEMON LAW BUYBACK" equation is not as simple as it sounds. Read the pages within this website by placing your "mouse" cursor over the topics on the left side of this page and "clicking" your way to important informational topics!
Once you have read these pages, you will be more prepared to understand the dynamics – and potential pitfalls, of these "LEMON LAW BUYBACK" vehicles.

This website is brought to you by:



CLICK HERE TO ENTER THIS WEBSITE
California Lemon Law Attorneys
411 N. Central Ave. Suite 230
Glendale, California. 91203
(1-800-225-3666)

lemon, law, buyback, California, repurchase, consumer, warranty, automobile, vehicle, branded title, disclosure, attorney, state, information, statute, information